You Caught Me Love Dancing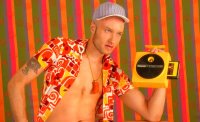 I'm torn (don't worry, I'm not lying naked on the floor);
Is It All Over My Face (Larry Levan Mix)
by
Loose Joints
has to be one of my favourite disco records of all time. So, it was with some trepidation that I approached
Cazwell's
reinvention of the seminal disco classic.
Staying fairly true to the original mix(augmenting the original track with some instrumental crunch produced by Kaz Gamble (Cooler Kids), Cazwell's version basically features him rapping between the original chorus. His rapping style reminds me of Eminem and (this is not necessarily a good thing) Bloodhound Gang.
Cazwell's lyrics take what was a euphorically sleazy track (think, coke, E and a lot of sex under disco balls) and relocates it in the backroom of a dodgy LA club with meth being the stimulant of choice – it's sleazy, vulgar and for some reason appeals to me.
Or maybe I just like the way he looks.
MP3: Cazwell – All Over Your Face (Expired)
MP3: Loose Joints – Is It All Over My Face (Larry Levan Mix) (Expired)
MP3: Loose Joints – Is It All Over My Face (Larry Levan Male Vocal Mix) (Expired)
buy: Larry Levan's Paradise Garage: Classic West End Records Remixed

buy: Cazwell – All Over Your Face